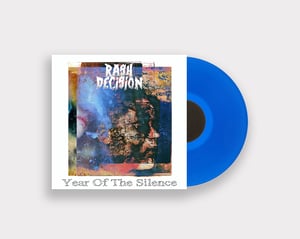 £

13.00 - On Sale
Our new album!
THIS IS A PRE-ORDER. Album will be posted in March 2022.
First look and review with Ear Nutrition:
https://www.earnutrition.co.uk/video-premiere-rash-decision-and-beasts-of-england/
Artwork by Adam Morrison and Reece Green.
Photography by Niamh Cregan
Comes with:
- Lyric art insert.
- Zine all about the album incl full lyrics
- Download code (included when shipped)

- Automatically entered into a raffle for the only test press available
If you want the vinyl to be signed by the band, you select this as an option, and we'll get it done. No extra charge, although depending on the number of signed copies requested it may delay posting it out slightly. We feel a bit silly offering it, but people have asked!
Zine made by Ugly Love
Pressed on blue vinyl, by DMS in Plymouth.
18 tracks, run time of approx 35 mins
Also available on CD
Music Video for 'Beasts of England'
https://www.youtube.com/watch?v=hH909SjbXNc
Stream here:
www.rashdecision.bandcamp.com
Follow here:
https://open.spotify.com/artist/6R7v2Ji49NNYX7UFjDuHeU?si=0gkFjSmjQL2hd6eJcTqxJQ
For european shipping, select 'Belgium'
For everywhere outside of Europe and the UK, you will get International Economy Postage
https://www.royalmail.com/sending/international/international-economy
please contact deadinvoicesrecords@outlook.com if you want to arrange a quicker, more expensive delivery option.
Or, if you can help with a review, a podcast, a radio show etc, please get into contact using email address above :)